Cryptocurrency has become a popular investment option in recent years due to its decentralized nature and potential for high returns. However, investing in cryptocurrency can be risky, and it's important to approach it with caution. In this article, we'll discuss some important things to remember while investing in cryptocurrency.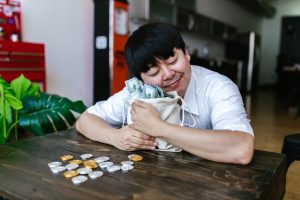 Do your research
Before investing in any cryptocurrency, it's important to do your research. This includes understanding the technology behind the currency, the team behind the project, and the potential for growth. Take the time to read whitepapers, explore forums and social media platforms, and speak to other investors to get a better understanding of the currency and its potential.
Diversify your portfolio
Diversifying your cryptocurrency portfolio is important to mitigate risks. Instead of investing all your money in one currency, consider investing in a range of cryptocurrencies. This can help to spread the risk and increase the potential for higher returns.
Be prepared for volatility
The value of cryptocurrencies can be highly volatile, and it's important to be prepared for this. The price of a currency can change rapidly, sometimes even within a matter of minutes. It's important to be patient and not panic when the price of a currency drops. It's also important to set realistic expectations for your returns and not invest more than you can afford to lose.
Choose a reputable exchange
Choosing a reputable exchange is crucial for the safety of your investment. Make sure the exchange you choose has a good reputation and is trustworthy. Look for an exchange that has a secure platform, strong customer support, and a good track record of protecting their users' funds.
Keep your investment safe
The safety of your investment should be a top priority. This includes keeping your private keys and passwords secure. It's also important to use two-factor authentication and a strong password when accessing your exchange account. Consider using a hardware wallet to store your cryptocurrency offline for added security.
Be aware of scams
Cryptocurrency scams are unfortunately common, and it's important to be aware of them. Scammers may use tactics such as phishing emails, fake social media accounts, or Ponzi schemes to steal your investment. Be cautious when receiving unsolicited investment advice or offers, and always do your own research before making any investment decisions.
Understand tax implications
Investing in cryptocurrency may have tax implications, and it's important to understand these before investing. In some countries, cryptocurrency is treated as a commodity or asset, and profits from cryptocurrency investments may be subject to capital gains tax. Speak to a financial advisor or tax professional to understand the tax implications of investing in cryptocurrency in your country.
In conclusion, investing in cryptocurrency can be a lucrative investment opportunity, but it's important to approach it with caution. Remember to do your research, diversify your portfolio, be prepared for volatility, choose a reputable exchange, keep your investment safe, be aware of scams, and understand tax implications. By following these tips, you can invest in cryptocurrency with confidence and increase your chances of success.